The powerful tool
for digital experience
Sitecore: the powerful
DXP

to the best experiences of your clients

Sitecore is one of the global leaders in DXP software. Over the past 20 years Sitecore has branded itself as having an excellent DXP product for business and customer satisfaction. It is a complex solution, that involves customer data, AI, marketing automation, and analytics features. Sitecore is highly trusted, and is prominently known for its flexibility and scalability in offering solutions to different problems.
We are one of the most experienced Sitecore partners in Europe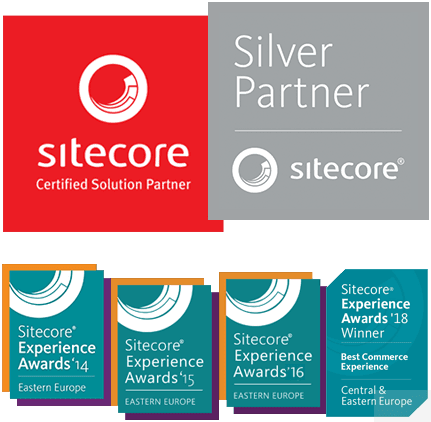 Sitecore partner since 2011

Sitecore Experience Awards in 2014, 2015, 2016 and 2017

Certified and experienced developers

Track record of many international implementations

Deep understanding of client's needs and strong business background
Why Sitecore
Proven enterprise solution

Large network of Sitecore providers

Scalability and customised solution

Full digital view of customer experience
Key features
Advanced Web Content Management platform
This WCM system is ready as an integrated platform to support global, multilingual content websites and provide the flexibility and scalability that enterprises demand. It's a powerful tool for IT teams who want to customize the platform for their particular environment but is also easy for marketers to use
Advanced Digital Experience Platform
This digital marketing platform provides marketers with a digitalised customer view and segmentation. It enables handling of activities such as; personalization, marketing automation, testing and optimization, lead nurturing and engagement analytics
Fully Integrated
E-commerce

Platform

It's a very powerful commercial framework which is interlocked with the Sitecore Experience Platform. Marketers can engage across different channels with the customer in real time before, during, and after the purchase
Sitecore Experience Database (xDB)
xDB can collect data from different channels (CRM, Call Centres, any third- party data sources) and utilises Sitecore's own API, 'xConnect', to support integration and data import/export in order to achieve high levels of customisation to fit the client's specific needs.
Sitecore also provides the potential to combine information about user activities, content and commerce, and use machine learning (Sitecore Cortex™) to deliver real-time insights from xDB's from different channels or even different systems
Clause
The administrator of your personal data is Infinity Group Sp. z o.o., Składowa st. 12, 15-399 Białystok, phone +48 85 652 09 20, e-mail: biuro@infinity-group.pl. In matters regarding the protection of personal data, you can contact our Data Protection Officer. Contact is possible via e-mail at iod@infinity-group.pl or via traditional correspondence sent to the address of our office with the note "GDPR".
Your personal data will be processed:
a. for correspondence - the legal basis for processing is Art. 6 clause 1 letter f of the General Data Protection Regulation, our legitimate interest is correspondence;
b. for archival purposes - the legal basis is Art. 6 clause 1 letter f of the General Data Protection Regulation; our legitimate interest is to secure information in the event of a legal need to prove facts;
c. for possible determination, investigation or defense against claims - the legal basis for processing is art. 6 clause 1 letter f; our legitimate interest is to secure information in the event of a legal need to prove facts;
d. to conduct marketing and information activities (like podcasts, webinars, trainings). Your personal data may be disclosed to our contractors and subcontractors, in connection with the implementation of obligations arising from contracts concluded with them to the extent that is necessary for the implementation of our services.
Your personal data will be processed no longer than necessary, i.e. for the period necessary to enforce claims or until the expiry thereof. You have the right to:
a. request access to personal data, rectification, deletion or limitation of processing;
b. object to the processing of personal data;
c. transfer of personal data.
You have the right to lodge a complaint to the supervisory body, i.e. to the President of the Office for Personal Data Protection. Providing your data is voluntary, but necessary to correspond with us.