 Your partner in Salesforce implementation
Salesforce CRM Solutions: Use the Power of Data and Foster Strong Customer Relationships through Intelligent Data Management
Salesforce solutions provide advanced capabilities for collecting, analyzing, and managing business data. The platform facilitates the integration and centralization of data from various sources, enabling a comprehensive understanding of customers, their preferences, and behaviour. By leveraging Salesforce, businesses can make well-informed, data-driven decisions, personalize their marketing efforts, and cultivate stronger customer relationships. Learn more about what Salesforce offers and choose Infinity Group to implement solutions that take business growth to the next level.
Sales Cloud, Service Cloud, and Marketing Cloud - Key Salesforce CRM Solutions
Sales Cloud, Service Cloud, and Marketing Cloud are the three primary products offered by Salesforce as comprehensive CRM solutions for businesses. The system allows organizations to adopt a holistic approach to customer management by integrating sales, service, and marketing processes into a centralized platform.
Sales Cloud

stands as one of Salesforce's core products, designed to automate and enhance productivity of sales processes.

Service Cloud

serves as a dedicated CRM platform for customer service. This solution empowers companies to deliver exceptional customer experiences.

Marketing Cloud

is a comprehensive solution for managing marketing campaigns and customer communications across multiple channels.
Salesforce CRM (Customer Relationship Management): Use Cases
Salesforce CRM systems play a pivotal role in driving the digital transformation of companies, enabling them to achieve heightened levels of efficiency and innovation. These products empower organizations to automate and optimize sales processes, manage customer service across various communication channels, and leverage advanced personalization and automation tools for tailored marketing campaigns. If you want to explore Salesforce CRM implementations and the digital transformation process, contact our Salesforce representatives for more information.
Choose Infinity Group as Your Preferred Salesforce Partner & Leader in CRM Deployment
Maximize the potential of your Salesforce products by entrusting their implementation to the experts at Infinity Group. As a Salesforce Implementation Partner, we guarantee the highest quality of service and adherence to global standards set by the manufacturer. Benefit from our extensive industry experience and the support of a team that collaborates with renowned companies in Poland and internationally.
Our services go beyond deployment. We guide you through every project phase, starting with the Discovery process, where we analyze your business needs together. Based on this analysis, we propose the following steps and identify the most profitable solutions. Throughout the project cycle, you can rely on the expertise of our Salesforce-certified developers and marketers, who share their knowledge through workshops and training sessions on the effective use of Salesforce technology. As a trusted Salesforce Partner, we provide comprehensive support not only during deployment but also for ongoing maintenance. Work with Infinity Group to unleash the full potential of your CRM system.
Our Collaborative Approach to Implementing Salesforce CRM Technology
At Infinity Group, we prioritize close collaboration with our clients. This approach enables us to gain a deep understanding of their business objectives and provide strategic guidance and ideas throughout the project cycle. To transform our client's vision into an effective solution, we initiate a comprehensive Discovery phase. This phase focuses on identifying and showcasing how technology can contribute to their business. Together, we establish the project's vision, objectives, requirements, and approach.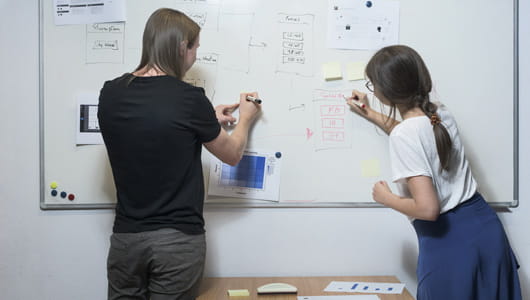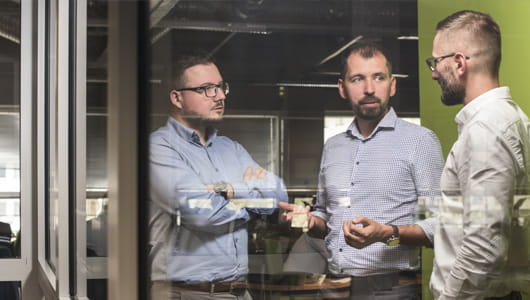 In our day-to-day work, we embrace an agile methodology, allowing us to adapt to evolving needs and deliver within agreed timeframes. This approach ensures seamless communication throughout our collaboration. If you're eager to discover how we can harness the full potential of Salesforce technology to benefit your organization, reach out to us today!
FAQ
In the following FAQ section, we address commonly asked questions about the CRM software which Salesforce provides. Whether you're seeking insights on their software solutions benefits, exploring the expertise of our dedicated team, or interested in understanding how Salesforce meets the needs of its diverse customer base, you'll find the answers you're looking for. Read on to discover how Salesforce provides innovative software that empowers businesses to streamline their processes, enhance customer relationships, and drive success in today's competitive landscape.
Is Salesforce CRM the best CRM system available?
How can Salesforce CRM help businesses in the long term?
How can Infinity Group assist in integrating Salesforce CRM into my existing infrastructure?