Marketing Automation - Kentico Key Features
Think about how many things your page visitors are telling you. What do you know about them? Kentico, as a Digital Experience Platform, allows you to determine their location, pages they visited, their social media and PPC ads interactions, devices they've used, their behavioural patterns or personas, evaluate sums of points gathered in multiple scorings and much more…
With marketing automation, you can create tailored scenarios that facilitate automated, but personalized interactions with your customers or potential customers. These interactions are founded upon a range of factors, ultimately resulting in the delivery of the right message at the right time, based on the unique requirements and actions of each individual user.
Kentico DXP - a fully-fledged marketing platform
With Kentico, you have access to a range of tools that allow you to execute various marketing activities effectively, including:
Content personalization
Audience segmentation
Lead scoring
Activity and conversion tracking
Marketing campaigns
A/B testing
E-mail messaging
All these techniques may be utilised, interconnected and automated in the Marketing Automation application.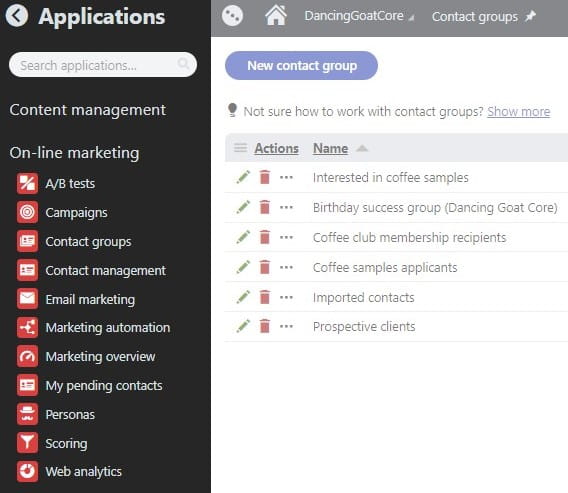 Automatic responses and automated marketing
Marketing Automation module allows you to create automated online campaigns in Kentico. It is equipped with a user friendly drag-and-drop interface enabling:
Enrolling users on automation campaigns.
Evaluating user activity based on defined rules.
Performing various actions for individual contacts.
This solution offers a wide range of practical, out-of-the-box marketing tools, which means they are ready to use without the need to write any code or perform any integrations with the content delivery system. What is more, the module supports Kentico macro conditions, so you can easily extend these features and customize them with low-code macros. Such macros may be created by marketers, without the need to bother or employ backend developers.
Marketing Features to Personalize Workflows
With Kentico's Marketing Automation application, you can create automated communication scenarios. These scenarios consist of multiple steps forming conditional workflows, where actions are performed according to specific time spans or user activities like form submissions, account registrations, or product purchases. Kentico takes it to the next level by allowing marketers to connect automated email messages with personalized website content for a unified, dynamic, and effective marketing communication strategy.
Automation templates
To meet certain business needs, it may be necessary to engage in extensive planning and analysis. Using Kentico, you can divide the created scenarios into multiple sessions. Furthermore, it is possible to create campaigns that span across more than one scenario — users fulfilling certain conditions are transferred from one scenario to another. Last but not least, the creation of more repetitive scenarios may be sped employing automation templates.
With Kentico Marketing Automation, you can streamline various marketing activities and enjoy a wide range of functionalities. This powerful application enables you to automate your entire post-sales communication with ease.