BI & Data analysis
We will help you use and understand the data by delivering informative visualisations and insights. Weare ready to understand your business needs and mine your data in order to deliver raports that will support your marketing and business decision making processes.
If you need:
Building a strategy of working with data

Combining and unifying data from multiple sources

Making data-based business decisions

Data visualization and insight delivery
Get in touch with Infinity Group
We have extensive experience in integrating variuos data sources. We help our partners in gathering, processing and analyzing data in order to optimize business performance.
Accurate data analytics streamlines decision-making, increases performance of marketing efforts, improves operational efficiency, identifies business oppurtinities and minimizes business risk.
Check, what we can do for you
Creation of data strategy

Building data workflow strategy, identification of data sources and consumers, selecting appropiate analytical and BI toolkit.

Data integration

Creation of dedicated data warehouses, importing data from multiple sources and formats, data unification and clearing, construction of unified 360° customer view profiles

Data processing

Validation, aggregation and integration, data modeling, creation of dedidated machine learning algorythms.

Data analysis

Customer egmentation, future trends forecasting, fraud detection, business process optimization, delivering information for data driven marketing camaigns.

Reporting

Creation of interacive reports and dashboards, data visualisation, reporting automatization, creation of custom business and marketing reports.
Tools that we use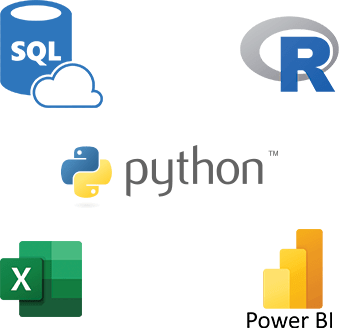 SQL

Microsoft SQL Server

MySQL

R

Python

Microsoft Excel

Microsoft Power BI
Frequently asked questions
How will I benefit from 360° customer view?
How data analytics will support my company's marketing activities?
How much data is needed for analytics?
How can I get started with data analytics?