2022 is officially over and only one word – GROWTH – can describe what a busy time it has been. In the past year, we have expanded our team, strengthened our competencies, and acquired new customers, but – above all – we have supported our long-term business partners by uncovering the paths of the digital world for them.
We started last year with a summary of the reviews received on Clutch – a platform that helps IT companies to give credibility to their past achievements. We were off to a strong start since both reviews received at the time topped the highest possible rating. However, we begin 2023 with six new reviews, no less than five of which are 5-star. Check them out below: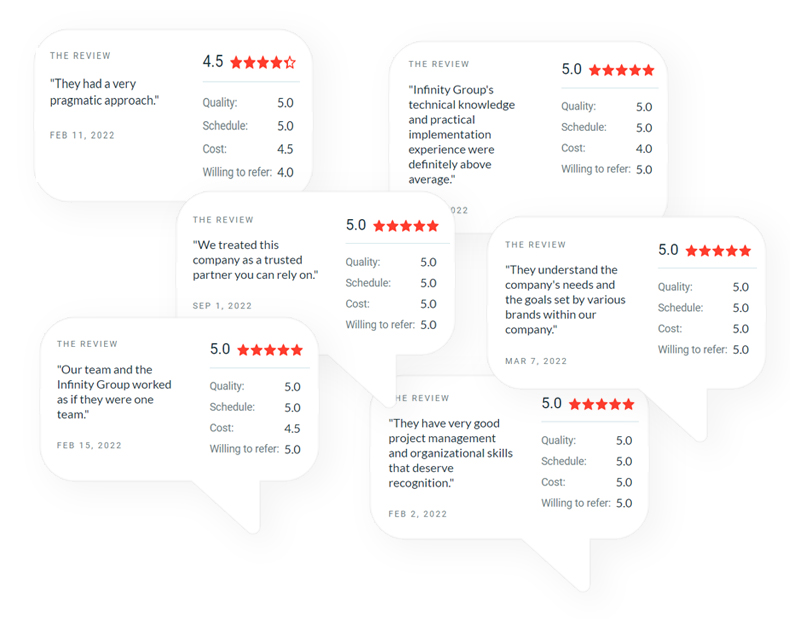 We are proud of how much our customers appreciate our partnership. We also continue to thank them for sharing their opinions on working with us – especially since they took time to leave many specific comments on it. By visiting our profile on Clutch, you can find their complete reviews with a detailed description of what we have implemented and how we did it within each collaboration. We hope the new year will be equally fruitful and full of successful implementations confirmed by more reviews – proof of our client's satisfaction.
If you want to take your digital experience to the next level and find out how we can help you to do so – don't hesitate to contact us. Start 2023 with Infinity Group, and let us grow your business.