The IT industry is undoubtedly one of the fastest-growing industries, but it is also known for being male-dominated. The lack of representation of women in IT has been a topic of discussion for some time, and it is increasingly believed that it is challenging for women to succeed in this field. No Fluff Jobs conducted research in 2022 and 2023 that revealed that over 30% of women interested in entering the IT industry are unsure where to begin or which specialization to choose [NFJ 2022: 20]. Additionally, over 40% of female respondents entered IT as a result of a career pivot, while only 22.56% of women currently working in IT have a technical background, such as a degree in Computer Science or a related field. The surveys also found that only 9.49% of female respondents secured their first IT job directly after non-technical studies, while 6.83% achieved it through self-study [NFJ 2023: 43]. It's no surprise then that as many as 81% of women find it difficult to find their first job in IT [NFJ 2023: 40], given the challenges of choosing the right path and acquiring the necessary knowledge.
Despite the obstacles, many women express an interest in pursuing a career in IT, with almost 71% of respondents satisfied with their current job in this industry [NFJ 2022: 29]. For those considering any changes, almost 70% are motivated by the need for more growth opportunities [NFJ 2023: 27]. However, there is still a considerable group of women who need guidance, support, and inspiration to take the first step towards landing their dream job in IT. To address this, we interviewed five female professionals from Infinity, who hold various positions, including senior and managerial roles, and possess different skills and backgrounds that have led them to where they are today professionally. We asked them about their roles at the company and for advice on pursuing a career in IT. By sharing their experiences, we hope to inspire our readers to pursue their dream jobs in the digital field.
Marta – Art Director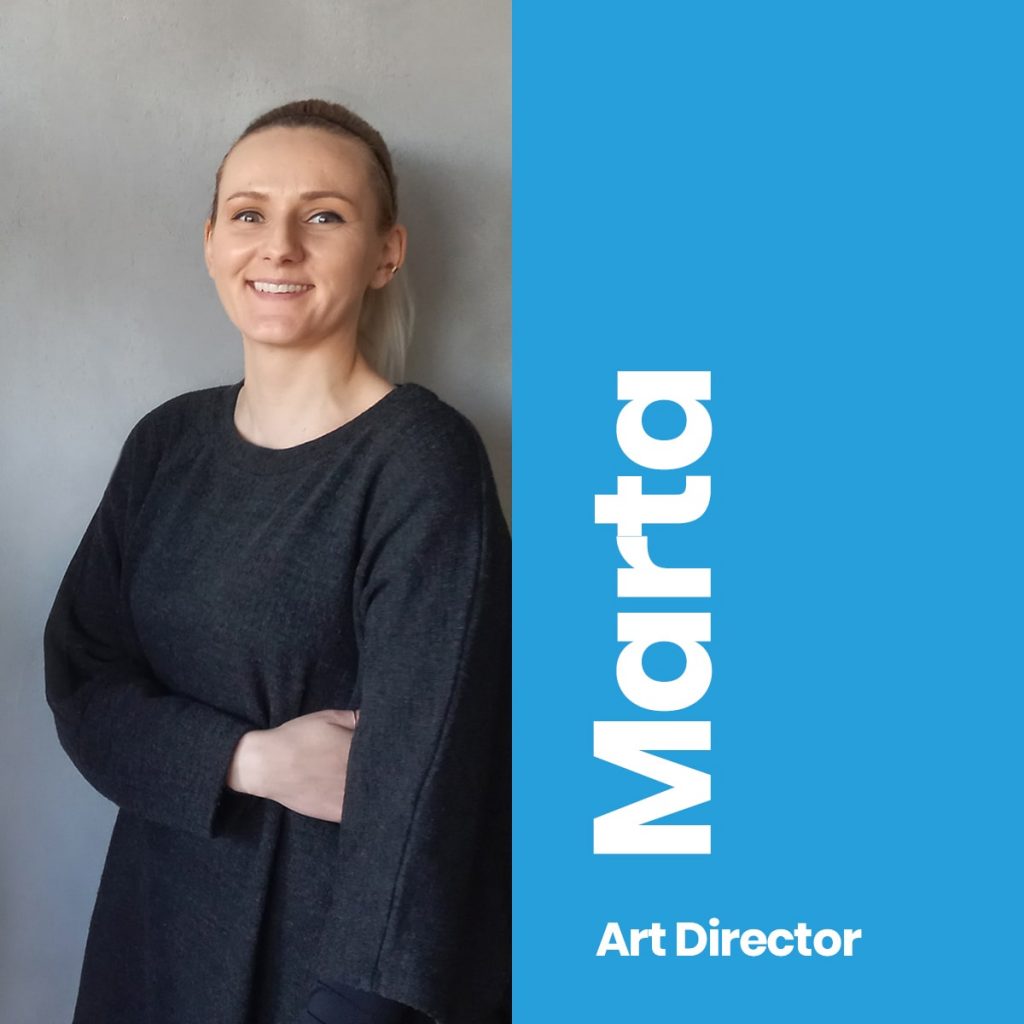 Marta has always been passionate about art and design. She attended an art high school and later pursued architecture in college, where she acquired many valuable skills and techniques that she still uses in her work today. Despite this, she abandoned the idea of getting a degree in architecture and instead decided to pursue graphic design professionally. That led her to join Infinity 11 years ago, although she did not enter the IT industry directly since the company initially offered primarily marketing services. At Infinity, Marta started as a creative graphic designer – creating banners and flyers and helping to develop advertising slogans. She learned Web Design gradually "on living organism", developing her skills as Infinity grew. Today, as an Art Director, Marta works not only on website design – she does graphic creations for various events and campaigns supported or organised by the company. Her passion for Motion Design allows her to be doubly creative, as she not only develops the visual aspect of a project but also brings it to life. Whenever possible, Marta is eager to incorporate animation into ongoing projects, which gets more and more popular with our clients.
What is the biggest challenge of working as a graphic designer in the IT industry?
The biggest challenge I face as an IT graphic designer is client feedback. Despite putting in a lot of effort to create a project we are 100% proud of, the client's vision takes precedence, and we must adapt accordingly. As designers, we get constantly exposed to criticism, so we must learn to take it positively – both from clients and within the team. It is essential to maintain distance and not take criticism of the project as a criticism of ourselves, even though the two are often intertwined.
How do you keep up-to-date with design tools and trends, and where do you look for inspiration?
To stay up-to-date with the latest tools and design trends, I read blogs about all kinds of design, not just graphics. Inspiration can be found anywhere, from art and people to travel. Although there are many ready-made designs available in the market, I believe it is essential to be inspired not by one but by multiple projects and always build new value from them.
What advice would you give to someone just starting out as a graphic designer?
I would advise them that creativity is always more important than technical skills and that simply knowing how to use design software does not make you a graphic designer. It is also essential to take constructive criticism from experienced designers – they don't mean to criticise you personally but help you. You should just try your best and not get discouraged, even if you don't have any web projects in your portfolio. When I started at Infinity, I didn't feel like I met all the requirements. Although the times might have been different – back then, I didn't have any experience in web design. Instead, I focused on my creativity, which eventually helped me stand out.
Ela – Project Manager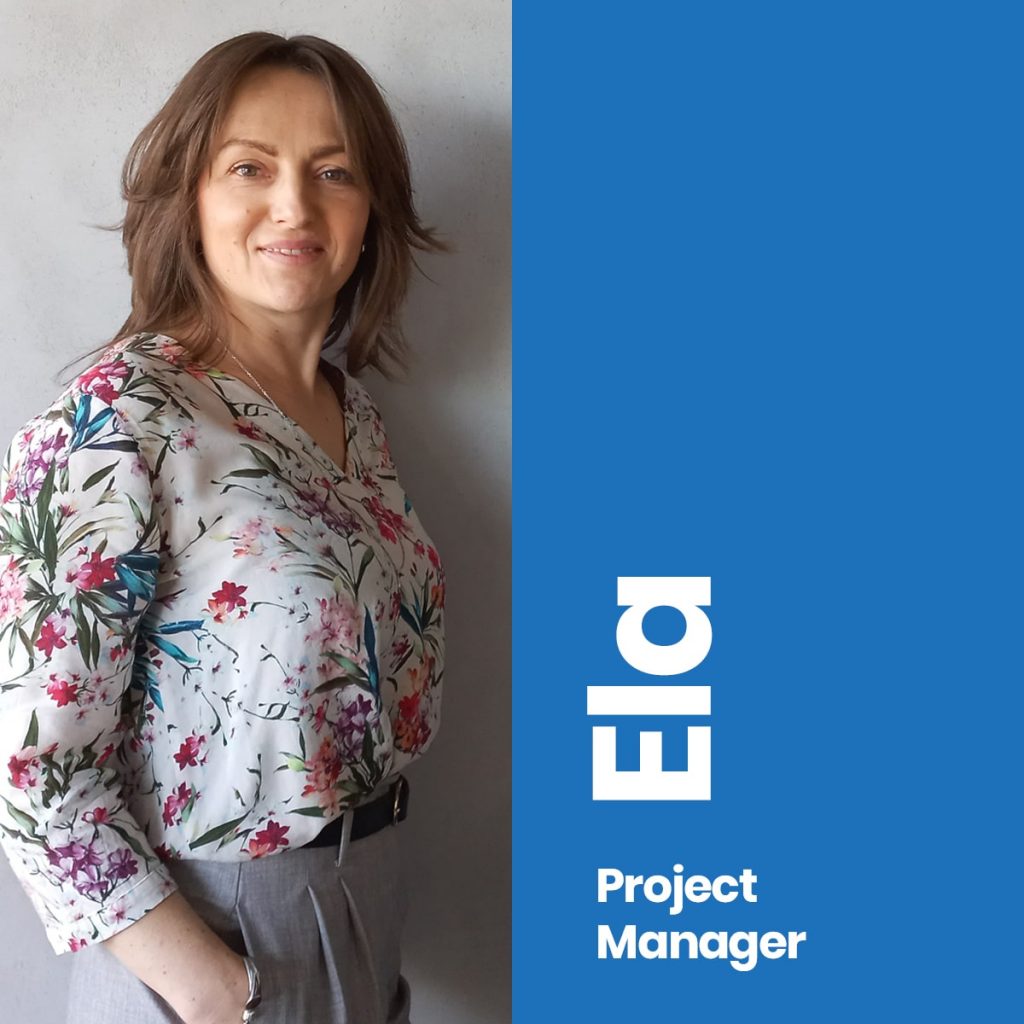 When Ela started her career at Infinity Group 16 years ago, the IT industry was very different from what it is today. Most importantly, at that time, IT project management was not yet established as a defined role. After graduating in marketing from The SGH Warsaw School of Economics, Ela never imagined that she would end up working in IT – she considered her future with a creative agency rather than a digital agency. However, she quickly found her footing and began learning everything she could about website development and project management. Unlike today, there weren't as many approaches, methods, and tools to use, so Ela relied heavily on her intuition to coordinate the development process. Over the years, she has experienced changes in the industry and the emergence of new methodologies, such as Scrum and Agile, and tools like Jira. Despite her non-technical background, Ela has learned to successfully deliver projects by building strong relationships with her team and clients. She values trust, mutual understanding, and effective communication, but has also learned to be demanding and set boundaries when necessary.
What is your advice to someone who considers working in IT Project Management?
If becoming an IT Project Manager is your goal, consider pursuing studies in this field. While they cannot replace practical experience, they can give you a broad understanding of the world you are about to become a part of. You'll learn the tools, and the methods – all the basics that I had to acquire through trial and error during my early projects.
Are IT jobs just for technical people?
There are tons of IT jobs out there these days, so there's bound to be interesting for everybody. Not all IT roles involve coding! You could be an analyst, a UX designer, or manage website content. But before diving in, it's worth asking yourself why you're considering a career in IT. If you're just in it for the money, you might want to rethink that decision.
There's been a lot of talks lately about how difficult it is to land a good IT job, with some saying the market is too saturated. When I first started out 16 years ago, it was just as tough. Back then, my biggest strength was being a fast learner, but nowadays that might not be enough. While the IT landscape has definitely changed, I firmly believe there is still a place for skilled specialists in the industry. And let's not forget about the importance of soft skills – from personal experience, I know that working with people you like is priceless. We spend a huge chunk of our lives at work, so it's crucial to surround ourselves with communicative, sincere, and open-minded colleagues.
Asia – Senior Software Developer / Team Leader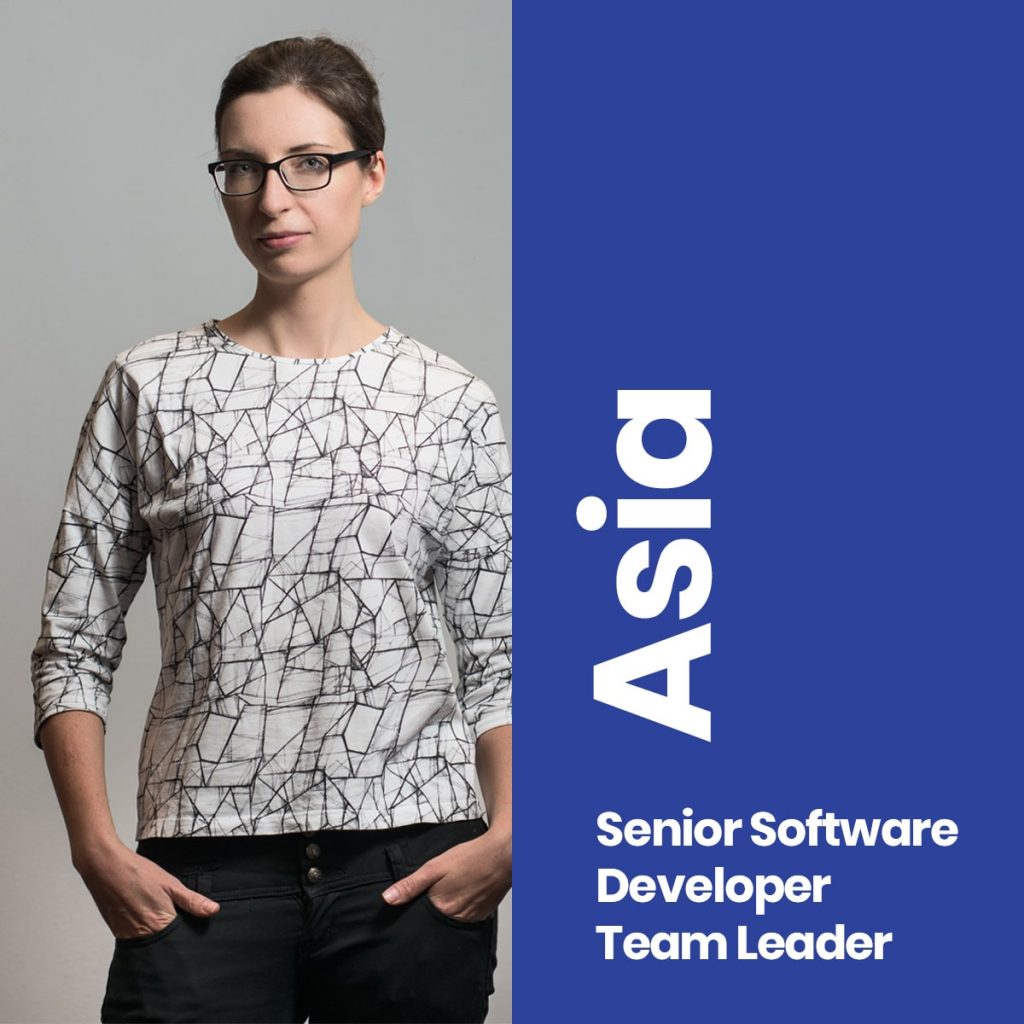 Asia works at Infinity Group as a Senior Software Developer and one of the Team Leaders in the Backend department. With a degree in Computer Science, she's the only one among the women featured in this article with a fully technical background. When she chose her major, IT wasn't as popular as it is today, especially among women. In her year, there were only three girls in a group of about 80 people, but Asia didn't experience any discrimination from teachers or other students. However, as she began working in the profession, she sometimes found that being a woman in IT made her feel like she didn't fit into the industry, and her skills were sometimes underestimated. Fortunately, this image has changed and turned out to be by no means the standard in the industry, as Asia's 12 years of professional experience attest. The challenge she faced at the beginning of her career was believing in herself and her abilities. Over the years, she has grown in confidence and proven to both herself and others that she's a perfect fit for the industry. Asia joined Infinity Group in 2017 as a Senior, and she quickly proved to be a valuable member of the team. As a Team Leader, she emphasizes open communication and effective cooperation between departments. For her, the success of the entire project is more important than just a slice of her team's work.
What do you think are the key qualities of a software developer?
The most important quality, in my opinion, is commitment and a willingness to learn and develop new skills. Keeping up-to-date with industry changes and new technologies as well as the team's support is crucial when working on development projects. Problem-solving is also a critical aspect of a programmer's job, so determination and persistence are important qualities to possess.
What has been the most challenging part of your job so far?
The biggest challenge for me has been to continue growing, going beyond my comfort zone, and pushing my boundaries. A particular project that required me to switch technologies after several years of working with a specific one showed me how essential it is to be adaptable to change and always be willing to learn and develop.
What advice would you give to girls who are considering a career in programming today? It is worth dispelling the myth of advertisements that promise to make you a programmer in just a few weeks and help you transition to IT. In my experience and observation, becoming a successful professional in the field requires a lot of patience and dedication. Programming is not only about learning a specific language, but it is primarily a mindset that allows you to solve problems effectively.
Karolina – Junior QA Specialist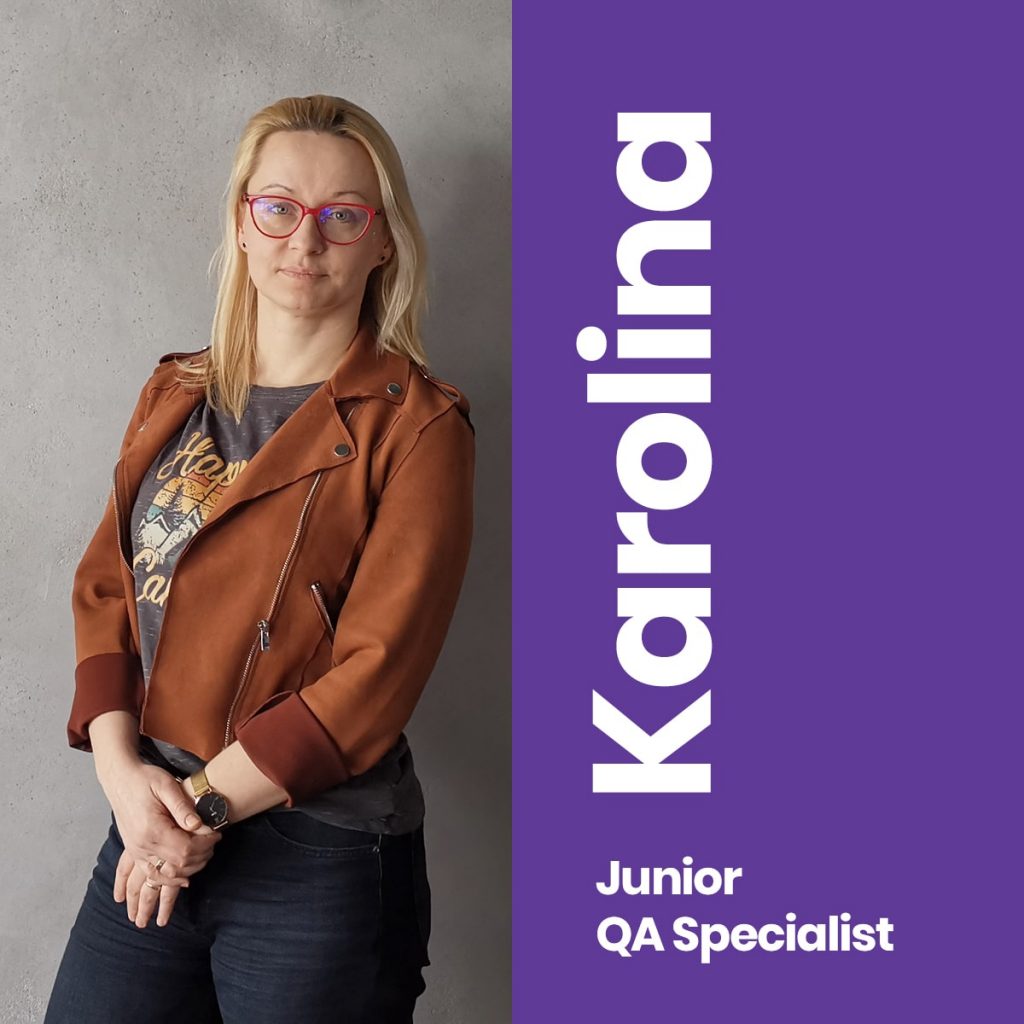 Karolina's story is a classic example of a career pivot. She had been working as an accountant for several years and at some point stopped feeling satisfied with her job. Due to her husband being a programmer, the IT industry was not unfamiliar to her. During the pandemic, while she was on maternity leave, she observed the ins and outs of her husband's work. This gave her the idea to change industries and sparked her interest in the QA field. After many discussions with her husband and a colleague who had made a similar move, she decided to take action. She started an intensive course in testing, during which she obtained an ISTQB certificate, and then began an intensive search for a job in IT companies. Despite not receiving any response from the companies she applied to, Karolina remained determined to find an offer that met her needs. Finally, she applied to Infinity for the position of Middle QA Specialist but was rejected due to lack of experience. A month or two later, the phone rang again – our HR Manager offered Karolina a junior position. It has been almost a year since then. Today, Karolina is a valued member of our testing team, dynamically developing and tying her future to IT, setting ambitious goals for the years to come.
Which project that you have been involved in so far are you most proud of?
At first, I was mainly involved in maintenance projects, but recently I started my first project using Scrum. It's hard to say I'm proud of it already – I've only been participating for a few weeks – but the whole process is very interesting. I like working in such a structured way, in sprints, and I see this project as a great opportunity to develop my skills.
What would you advise someone who wants to start working in the tech industry but doesn't know how to go about it?
It's a good idea to find a mentor – someone you can turn to with any question, even the most trivial. And if for some reason, you're afraid of changing industries, even though you don't like your current job – it's all the more reason to find the courage to do so. For me, it seemed too late to change, but I decided that it was better to try than to continue to suffer… It's not going to get any worse.
What would you advise someone planning to work as a Junior QA Specialist? My advice would definitely be to not be afraid to ask questions and to mentally prepare yourself for the fact that there will be a lot of them at the beginning. When I first started my job, I felt overwhelmed by the amount of information I had to assimilate. I often thought that my seemingly silly question was trivial to someone else and that by knowing the answer to it, many problems ceased to exist or I found it easier to find a solution. I've also found that it pays to be specific when communicating with programmers. It's better to be prepared and think carefully about the topic you are raising. This makes communication much easier and speeds up problem-solving.
Ewelina – Web Content Team Leader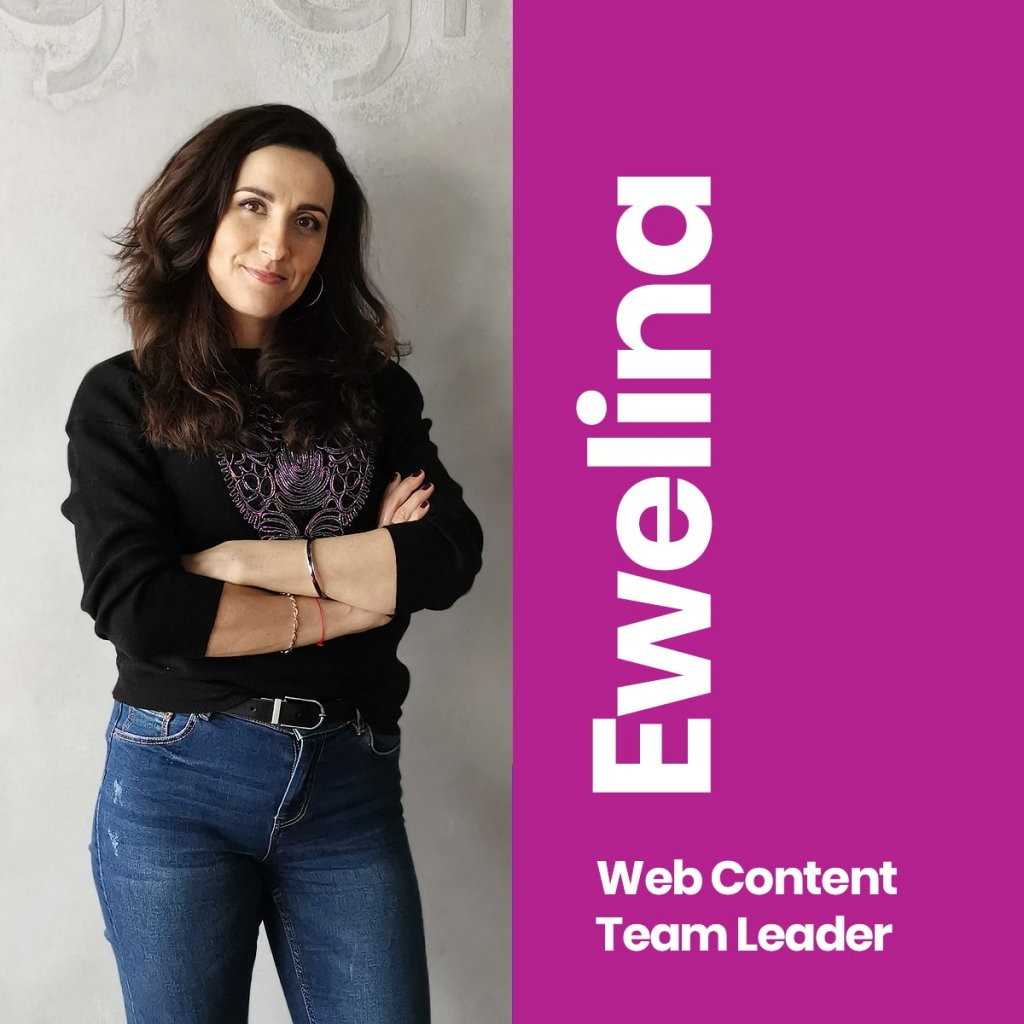 Ewelina's career path was anything but conventional. Fifteen years ago, she applied for a position as a Management Assistant at Infinity Group, without realizing that it would mark the beginning of her journey into the world of technology. She was initially bewildered by the technical jargon and conversations she heard developers having over coffee. However, with time, she began to understand more and felt the need for a change. The Board suggested that she attend a postgraduate course in front-end, which was co-organised by the company. While on maternity leave after the birth of her child, Ewelina took the opportunity to enrol in the course. She returned to work not as an assistant, but as a Content Editor, where she quickly found her footing and her new responsibilities brought her great satisfaction and a desire for further development. In 2021, Ewelina's passion and commitment led her to become the leader of the Web Content team. Despite her unique career path, she loves her job and the people she works with. She strongly believes in the principle of treating others as she would like to be treated herself, and values building strong relationships and having open conversations at work and in her personal life. Ewelina is always eager to learn new systems and acquire new skills, as she strives for personal growth and development.
What have you learned as a Team Leader and what advice would you give to women entering this professional stage?
I've learned the importance of not getting emotional about work-related situations and taking a step back to gain perspective. I have also realised that the more you experience, the more resilient you are when handling difficult and stressful situations. When it comes to team management – it's a difficult role and a huge challenge and responsibility, but undoubtedly communication, building relationships and keeping up with my team members' aspirations are key. It is also essential to address misunderstandings and clear up any ambiguities as soon as possible to create a cohesive team. So my advice is to always listen, communicate effectively, and manage the needs and expectations of your employees properly.
As a team leader, you participate in recruiting for your team. What do you think is most important in a potential candidate for Web Content?
The most essential qualities for a potential candidate for the Web Content Editor position are commitment, willingness to work, and openness to learning new technologies and delving into the world of IT. Basic knowledge of HTML and CSS is highly beneficial as it will aid in getting started. Moreover, having an interest in CMS and some practices, even with non-commercial, open-source systems such as WordPress or Joomla, is an added advantage. During interviews, I pay significant attention to the candidate's openness and communicativeness as we are in constant and direct contact with project teams and clients, making the ease of establishing relations crucial. Fluency in English is also a must-have, as we collaborate with people from all over the world. In conclusion, possessing a technical background, and an interest in CMS, combined with openness and ease of conversation, makes a candidate a strong contender for the Content Editor position.
It sounds like working in Web Content could be a great entry-level for those interested in IT. Yes, absolutely! It is not expected that a Junior candidate will have extensive knowledge of the commercial content management systems that the company uses on a daily basis. Advanced technical or programming knowledge is not a requirement for this position. If a candidate has the basics, as mentioned earlier, and the willingness and enthusiasm to learn, they are on a very good path. Everything, including CMS, can be learned, but it requires commitment, initiative, and the ability to work as part of a team. During the WCD adventure, training is provided to learn the general operation of the systems in question, and the first project is carried out under the guidance of a more experienced team member. It is worth noting that working in Web Content provides the opportunity to gain technical understanding and a broader idea of the systems, and can be an excellent starting point to work in other branches of IT such as technical writing, testing, and business analytics. At Infinity, we have many such cases.
Summary
The stories of these five inspiring women working at Infinity show that a rewarding career in IT is possible for everyone, regardless of gender, age, or educational background. Whether it's Ela, who relied on intuition and experience to learn how to effectively manage projects, or Marta, who pursued her passion for art and design to become a versatile graphic designer, their stories prove that dedication, hard work, and a willingness to learn lead to success in the technology industry. Additionally, these women emphasize the importance of mentoring and peer support, which not only helps you enter the market but also grow in your chosen field.
We hope the stories of our female professionals give hope and motivation to all those who want to follow in their footsteps and are considering a career in IT. We encourage you to take that risk and boldly reach for your dream profession. If you're looking for a stable workplace where equal treatment is standard and support in development and strong relationships are fundamental values, visit our Careers subpage and check out the current job offers at Infinity. Or, if you feel you can add value to our team, apply spontaneously.
Sources
"Women of IT 2023" report – available online: https://nofluffjobs.com/insights/raport-kobiety-w-it-2023/
"Women of IT 2022" report – available online: https://nofluffjobs.com/insights/raport-kobiety-w-it-2022/