Generating traffic to a website is a challenge that all online entrepreneurs face today. The pandemic has significantly changed the game rules, so people have realised that a business does not exist if it is invisible online. At the same time, doing business online has become quite simple, so what seems more important than the question "is your business present online?" is how you communicate that it is.
According to BrightEdge research released as a part of the Share Conference, 68% of website traffic comes from Organic and Paid Search channels. It follows that search engine traffic is essential for growing an online business. Therefore, what are the best ways to invest resources? Which of the advertising channels is superior? The answer remains as it always does: it depends.
Organic or Paid Search
Allocating a budget to SEO seems much more cost-effective long term. However, for new businesses that want to start selling the moment they go online, investing in paid advertising might be a much better move.
It is also possible to use both channels simultaneously – this solution is gaining more and more supporters, though many myths have arisen around it. For example, some claim that the organic results of websites that invest in PPC are higher than those that don't have paid campaigns running while SEO operations are ongoing. Meanwhile, others believe that search engine rankings are solely the result of manipulating budgets spent on paid advertising rather than search result updates themselves.
Note that search engine marketing has a distinct set of rules depending on which channel it is performed, and SEO and PPC differ in how they affect rankings. Therefore, the key to success is to execute an SEM strategy using them both – implementing a joint plan based on the synergy of SEO and PPC ensures the main goal: successfully ranking in the search results.
However, we cannot forget that Performance Marketing is never a zero-sum game. Each company creates its scenario and configuration of resources to turn this into one of the competitive advantages. Some, for example, choose to split their resources and keep some internally but outsource the rest.

Even so, others believe that SEO and PPC compete for the same set of keywords – such thinking, however, is wrong and carries a considerable risk at different levels of cooperation. Above all, it leads to communication distortions in terms of the actions taken (current and long-term), which can result in:
the PPC team does not know the changes in on-site SEO implementation,
no feedback for the SEO team on how their optimisation affects the effectiveness of paid campaigns.
When planning a joint strategy for both channels, we remember that the guarantee of success is the synergy of activities and cooperation between SEO and PPC teams – it's the only way to achieve the best results. In other words, to increase both the quality and the usability of the website and the paid and free results obtained, open communication and information flow are necessary. However, before I go into further detail on this topic, I'd like to give a broader outline of what one can gain from the joint SEO and PPC strategy.
Benefits of Organic and Paid Search Synergy
Assisted conversions as a budget balancing effect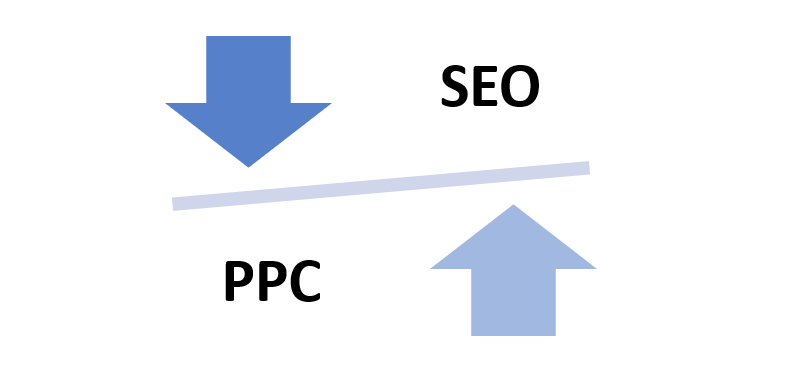 A significant advantage of implementing both SEO and PPC is the so-called assisted conversions. They can be achieved by balancing the budget between channels (while taking into account the short- and long-term needs of the strategy). It is crucial to be aware that a complete budget shift from one channel to another can negatively affect the total number of conversions.
Contemporary users need more time before they finally convert: they often visit the site from several sources, which extends their customer journey. That is why they should encounter our advertising messages at different stages. After all, it may turn out that even a temporary cut-off of one of the communication channels will result in a lack of final conversion from the other one.
Expanding the space occupied in SERPs
SEO work that involves occupying Top0 or Top1-3 positions for keywords on which extended paid advertising is also displayed can be an effective strategy to push the competition further down the list (or to the second page of search results in the Mobile version). Of course, for some queries – e. g. branded queries – such actions can lead to channel cannibalisation. However, only by having them both active will it be possible to detect and eliminate any problems.
Tailoring results to user needs and intentions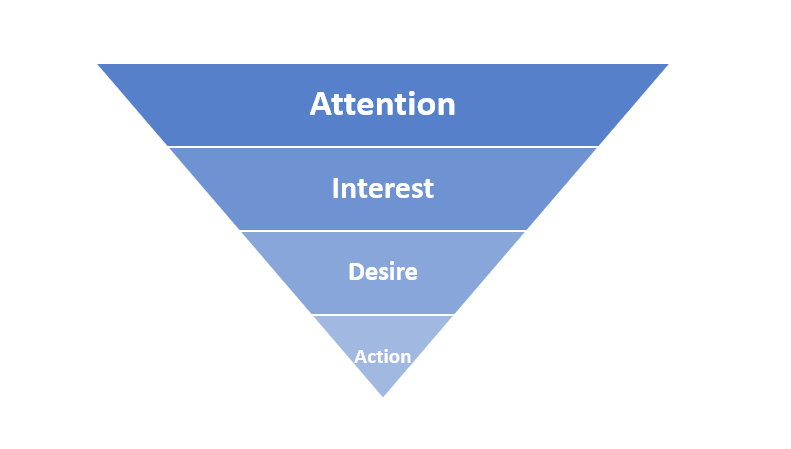 We already know that users search for different phrases at various stages of their customer journey and that more than 80% of search queries relate to the need to obtain specific information on a given topic. Combining both channels in Performance Marketing can tailor the results for phares to each stage of the customer journey and accordingly to different query intent. On the other hand, the lack of cooperation between SEO and PPC may cause a lower coverage of transactional queries and, consequently, noticeably weaker conversions.
Balancing the ROI of both channels
When it comes to SEO, the start of a campaign is stretched over time. The effects are not immediate but have long-term benefits. Unlike SEO, PPC proves to be an effective source of conversions even before the Organic channel records a good result.
On-site optimisation and keyword alignment of the landing pages
Not only in SEO does the optimisation of sub-pages for queries, usability, or loading speed produce measurable benefits. In PPC, such measures also improve the ad's quality score, which lowers the CPC cost. Activities in this field increase conversion rate and user engagement for both channels.
Cooperation between SEO and PPC teams
Success is never the result of one man's work. To combine traffic acquisition activities from paid and unpaid results, you need to build a team with a wide range of skills and mutual understanding. Each should consist of the following people:
SEM Project Manager – the person coordinating strategy and execution based on the mutual and individual goals of both channels;
SEO and PPC lead specialists – creators of the strategy based on the strategic and business objectives of the organisation in the context of gaining traffic from search engines;
SEO and PPC support specialists – responsible for implementing specific stages of the chosen Performance Marketing strategy.
Combining the often opposite interests of the two teams in a single strategy is quite a challenge. Therefore, it is crucial to attach importance to maintaining the flow of information and atmosphere at the highest level. After all, collaboration is not only about achieving common KPIs, but also:
Joint status meetings of the project team that allow information about both the progress of specific activities and the problems encountered.
As for the team on the agency side, status meetings and regular exchanges with clients testify to its expertise.
Creating project documentation, analytical summaries, and cyclical reports, that can help catch gaps to be addressed with the support of the second channel.
Putting SEO and PPC strategy into practice
No matter what stage your business is at, the cooperation of the two channels guarantees more benefits than problems – numerous opportunities to apply SEO and PPC together prove it. Below you can find a list of the most common examples of how to implement such strategies.
URL changes
URL interference is something to be careful about not only when migrating large sites from one domain to another. Any URL change must always end with the application of a 301 redirect between the two URLs. Most importantly, we maintain continuity of access to content that has already been indexed.
On the other hand, in launched paid campaigns, it is equally important to maintain continuity. The cooperation between SEO and PPC guarantees an adequate flow of information that allows us to adapt to changes in the target addresses at the right time.
Keyword grouping according to query intent
A keyword analysis is done on both the SEO and PPC side. So why not develop an effective keyword grouping strategy to, for example, redirect high-converting ones into paid campaigns and direct the long-tail phrases with informative intent into organic campaigns?
The distribution of SEO and Paid channels in relation to query intent could be as follows: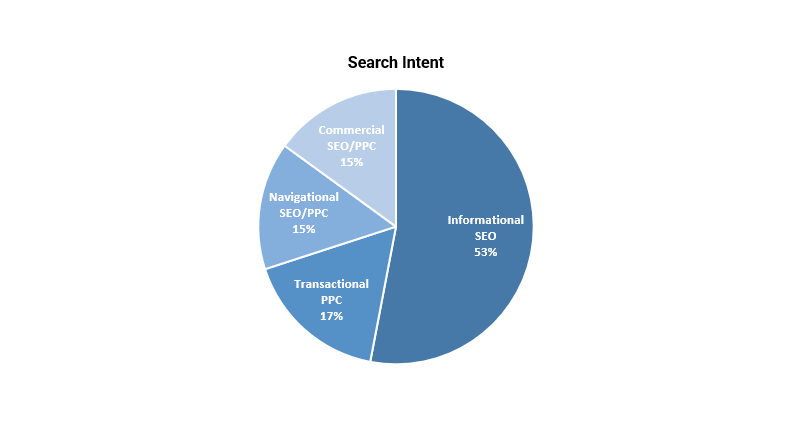 Dedicated Landing Pages
Every marketing campaign should have a dedicated landing page on which the user will perform the action we expect (for example, fill in a form or purchase a product). It is worth remembering, however, that creating landing pages from internal search engine results will not always prove to be the optimal solution for PPC campaigns. On the other hand, incompetent use of UTM parameters in internal links may reduce SEO performance. All this also points to the importance of efficient communication between teams of specialists for individual channels – regular and effective exchange of information will certainly translate into significant time savings for all specialists involved in implementing a given strategy.
Performance testing of keyword groups
If you want an in-depth keyword analysis, check in with SEO specialists. However, if you need to know how particular keywords are converting, test your keyword list in PPC. Make sure you know the conversion rate of the keywords in the question and use this knowledge for on-site optimisation.
Ad content testing in search engines
Advertising content in PPC is a fully automated process – use its potential in your paid campaigns. Test CTAs en masse, do A/B testing of creatives, learn insights on clicks, rejections, and conversion rates and move the best content sets into meta tags.
The advantage of simultaneously investing in SEO and PPC is to mix advertising messages between channels. In paid campaigns, we can use copy about the USPs of the products, and in organic results, it is worth complementing the content of the message with vivid meta descriptions.
Budget optimisation for Performance Marketing
Flipping budgets between paid and free campaigns skilfully is an incredibly challenging task. However, suddenly cutting the budget or switching off one of the channels cannot be considered resource optimisation. If you are interested in keywords that generate a high cost-per-click in your paid campaigns, consider promoting them in the long term in an organic campaign. Then allocate your current budget to higher-margin products/services or offer segments that generate low traffic in other channels.
Summary
The main advantage of SEO and PPC cooperation is the ability to share the available knowledge. Both teams often create analyses and strategies based on different assumptions and tools. Knowledge exchange, however, allows them to create an interdisciplinary approach to their campaigns, which noticeably increases their effectiveness.
It is also a two-way benefit: PPC specialists gain a greater awareness of the technical and performance aspects, and the consequences of dynamic random URL generation in the long term. On the other hand, SEO specialists can more quickly verify their assumptions about keyword clickthrough rates, the quality of the phrase match to the landing page and have an insight into the longer-term planned activities in the paid channel, which is rarely performed ad hoc.
FAQ
---
What is PPC and SEO?
PPC (Pay-Per-Click) and SEO (Search Engine Optimization) are two different channels of search engine marketing (SEM) that help businesses rank higher in search results. PPC involves paid advertising for immediate visibility, while SEO focuses on optimizing website content for long-term organic search rankings. Utilizing both SEO and PPC together in a synergistic strategy can lead to successful search result rankings.
---