Mission:
#Digital Transformation
We help companies digitally transform their businesses through
Omnichannel strategy

Seamlessly connect with customers across all channels

Technology & Systems

Accelerate business growth with cutting-edge technology

Business Intelligence

Gain valuable insights to drive informed decisions
We are one of the most experienced Sitecore partners in Central and Eastern Europe.
Since 2012, Infinity Group has been certified Sitecore partner with a proven track of large-scale projects on 7 international markets.



We are able to cover full range of Sitecore related services, that includes:
Consulting & Solution Design

analysis & requirements, functional, technical and implementation concept

Development & Implementation

HTML templates, functionalities development, integrations

Optimization & Digital Marketing

web performance & analytics, segmentation, A/B testing, personalization

Support

maintenance, hosting, content updates, editorial trainings
Our projects are awarded every year
Sitecore Experience Awards 2018 Central & Eastern Europe

Best Commerce Experience

Techland Sp. z o.o.

Sitecore Experience Awards 2016 Eastern Europe

Content Management: Best content stategy

ESALIENS TFI SA

Sitecore Experience Awards 2015 Eastern Europe

Best use of content management

Muve S.A.

Sitecore Experience Awards 2014 Eastern Europe

Best manufacturing, automotive and technology

Danwood S.A.
More about Sitecore technology
Sitecore is a digital marketing platform that enables creating meaningful interactions to connect with customers in context, in real time, across all channels. Sitecore platform combines industry-leading web content management (CMS) with comprehensive digital marketing tools (DXP) and native commerce modules.
From a technical point of view Sitecore provides security, customizability and scalability (it's cloud friendly). Sitecore guarantees full documentation, training and support for its product. A large network of certified partners also ensures security and flexibility in cooperation with suppliers.
Sitecore Experience Management™
#1 on the content management market

Sitecore Experience Platform™
Marketing platform that provides personalized, multi-channel communication

Sitecore Experience Commerce™
Unified, native eCommerce modules
Key features
Advanced Web Content Management platform
This WCM system is ready as an integrated platform to support global, multilingual content websites and provide the flexibility and scalability that enterprises demand. It's a powerful tool for IT teams who want to customize the platform for their particular environment but is also easy for marketers to use
Advanced Digital Experience Platform
This digital marketing platform provides marketers with a digitalised customer view and segmentation. It enables handling of activities such as; personalization, marketing automation, testing and optimization, lead nurturing and engagement analytics
Fully Integrated
E-commerce

Platform

It's a very powerful commercial framework which is interlocked with the Sitecore Experience Platform. Marketers can engage across different channels with the customer in real time before, during, and after the purchase
Sitecore Experience Database (xDB)
xDB can collect data from different channels (CRM, Call Centres, any third- party data sources) and utilises Sitecore's own API, 'xConnect', to support integration and data import/export in order to achieve high levels of customisation to fit the client's specific needs.
Sitecore also provides the potential to combine information about user activities, content and commerce, and use machine learning (Sitecore Cortex™) to deliver real-time insights from xDB's from different channels or even different systems
Why Sitecore?
Enterprise solution at optimum price

Comprehesive support, documentation and training

Scalability and customised solution

Set of tools for managing customer experience
Why Us?
Deep understanding of client's needs and strong business background

Track record of international implementations

Strong competences in xDB and tools available as part of Sitecore Experience platforms

Sitecore Commerce experience

Full range of services related to Sitecore projects

Sitecore Experience Awards in 2014, 2015, 2016 and 2017

intensified cooperation with Sitecore since 2012

Certified developers
Kentico and Kentico Cloud
Kentico CMS is a web content management system (WCMS) which offers a complete solution for on-lin marketing activities. It combine web content management, E-commerce and marketing automation needs. Kentico provides marketers with a fully integrated set of tools which enables them to obtain a 360 degree view of customers and develop exceptional real-tiome communication with them.
From a technical point of view Kentico is a enterprise platfiorm which provides a security and scalability based on Net technology. They guarantee full documentation, training and high level support. Access is provided to a network of certified parters which gives Clients the potential for intra industry co-operaton.
Benefits
Enterprise solution at optimum price

Comprehensive support, documentation and training

Scalability and customised solution

Set of tools for managing customer experience
Key features
Web Content Management platform
Kentico offers two products for a WCM solution: both a traditional 'monolithic' CMS and also a headless CMS. Each of them provide powerful content collaboration but the headless version offers a cloud solution and gives more flexibility. The cloud version enables content to be highly structured, easily adapted for any application or channel and build upon content experience.
Kentico Online Marketing Solution
It is a fully integrated with Kentico CMS. Offers for marketers functionalities like: marketing automation, lead scoring, email marketing, personalisation, A/B testing. All these options assists marketers to better manage their customer's journey across all channels.
E-commerce

Platform

Kentico has an E-commerce funcionality. It's a solution which allows creation of an online store. The E-commerce module of Kentico provides flexible integration with a third party systems (eg ERP, CRM) payment systems and even other E-commerce systems such as Uncommerce has full integration with the online marketing feature of Kentico.
Why us?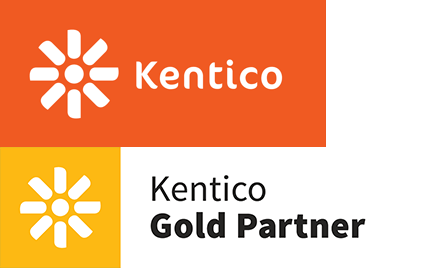 Our professional skills and attributes

Deep understanding of client's needs and strong business background

Track record

Proven competences in customer experience platforms

Full range of services related to Kentico projects

Experience in implementation of enterprise web content management system

Experienced net developers and specialists in cloud solutions