Umbraco: the flexible
open source .NET

CMS

Umbraco is an open-source content management system perfect for creating high-performing websites. It comes with a significant advantage–no license fees.

Umbraco is a proposal for businesses requiring scalable, custom-developed, safe, and cost-effective solutions. The simple, intuitive interface allows you to create and share new content and update the website quickly.
Why Us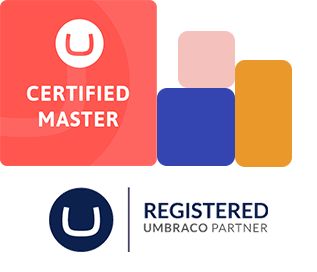 Certified developers and system integration experts

Extensive experience in corporate implementations of Umbraco

Strong business background and deep understanding of client's needs

Reliable and flexible approach to cooperation

Experience in enterprise web content management systems

Experienced .Net developers and specialists in cloud solutions
Why Umbraco
A wide range of hosting models: SaaS, PaaS or On‑Premise

Intuitive
content management system

Developer community and Umbraco Partner program
Key features
Infinitely scalable CMS framework
Flexible and simple content management system
Fully featured open source model with no licence fees
Built on the Microsoft .NET platform
Seamless integrations through the Umbraco API
Global developer community
Multi-language capabilities
Fully supports cloud environments such as Azure or Amazon
Seamless systems integration
Smoothly integrated with CRM system, analytics software, social media accounts or e-commerce platform
Enables to improve efficiency, streamline processes and facilitatescost savings
Intuitive editing experience
Designed to create improved content, faster
Easy to customize according to business needs
Supports natural workflow and allows to save time
It makes it simple to optimize content for SEO best practices
Enables your team to develop solutions that are aligned with business goals
Umbraco Cloud hosting for high availability and scaling
Competitive hosting of your application in Umbraco Cloud
Security - multiple safety nets give the assurance that the site does not go down in case of one point failure
Automatic upgrades
Fast and scalable - built on top of Microsoft Azure
Supports multiple environments such as test stage production
Unlimited storage and bandwidth